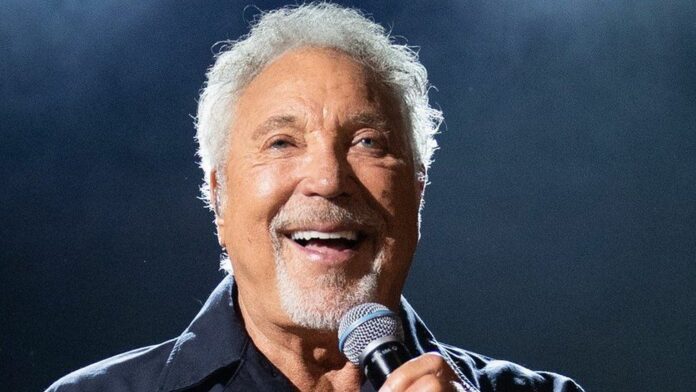 According to a recent incident, a 32-year-old woman named Natalie Wood has come forward with a claim that she was allegedly pushed and threatened by an off-duty police officer during a Tom Jones concert at Cardiff Castle.
Wood stated that the officer even went as far as flashing his badge in an attempt to avoid being ejected from the concert venue. Furthermore, she reported that the officer used offensive language towards her and attempted to engage in a physical altercation with her partner on the same night.
The event organiser said incidents were taken seriously and it was committed to "a safe and secure environment".
South Wales Police has referred it to its Professional Standards Department.
"We'd got our spot and we were just chilling when (the support act) Far From Saints came on," said Ms Wood, from Risca, Caerphilly county.
"You've got people brushing past you, squeezing through, which is fine… then I got shoved so hard I nearly fell over.
"The next thing I turn round and this man and his partner are both looking at me, really smug.
"The girlfriend came marching towards me, swearing at me in my face. They were drunk, so she was slurring and swearing.
"She turned around and tapped her partner on the shoulder and says 'sort her out'".
According to Ms. Wood's account, the situation escalated further when the officer and his companion began verbally abusing her and the rest of her group. Subsequently, the man even attempted to initiate a physical altercation with her partner, Owain, until the event stewards intervened to prevent any further escalation.
"My partner said to him 'you need to leave now. If you want to hit me then do it, I'm not going to fight you'. They had to physically grab him and pull him away," Ms Wood added.
"I think they were going to kick him out at this point, but then he pulls out his police badge."
Ms Wood described the officer's behaviour as "mind-blowing", and called it an "abuse of power".
"The stewards, they were only young lads, they didn't know what to do," she said.
"Everybody around us was asking us if we were OK. They all witnessed it. Other people were asking security to kick them out."
After the initial confrontation, Ms. Wood stated that the officer and his companion were relocated to another section of the venue. However, even in their new location, they allegedly persisted in taunting Ms. Wood and her group.
Approximately 40 minutes later, a significant number of security personnel were seen rushing through the crowd, leading to the removal of the off-duty police officer and his partner from the concert venue.
"Everybody was cheering and he was getting dragged out, smiling," she said.
She said she was told by stewards that he had been "thrown out for an altercation with someone else".
Ms Wood said she has reported the incident to South Wales Police and wants to see the officer disciplined, describing him as "not fit to be a police officer".
"He clearly thinks he's untouchable. He isn't on duty. He isn't working. He has no need to have his badge on him," she said.
"His behaviour, regardless of what your job is, is totally unacceptable and despicable".
A spokesperson for Depot, the event organiser, said: "On Monday evening, members of the public approached our security staff to report an ongoing incident and in line with our protocols, a man was given a verbal warning.
Shortly after the previous incident, venue staff received reports of another disturbance involving the same off-duty police officer. Given that the individual had already been given a prior warning, the decision was made to eject him from the premises to maintain safety and ensure a peaceful environment for all concert-goers.
"Incidents like these are taken seriously by our team and we remain committed to maintaining a safe and secure environment for everyone at our events."
In a statement, South Wales Police said: "We are aware of a social media post following a recent Tom Jones concert in Cardiff.
"The matter has been referred to the Professional Standards Department".