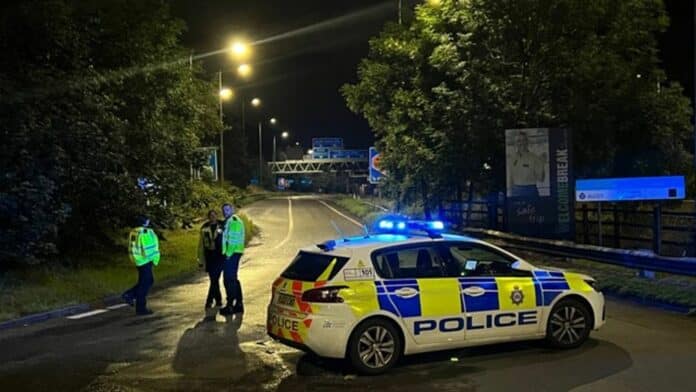 A man, aged 47, who is thought to have been driving the black Toyota C-HR involved in the collision with the young boy, has been apprehended under suspicion of committing a fatal offense through reckless driving.
Following the tragic hit-and-run incident on the M62 in West Yorkshire, resulting in the unfortunate death of a 12-year-old boy, a second individual has been apprehended. On Saturday night, the boy lost his life, prompting an investigation.
Today, a 47-year-old man hailing from the Bolton area was taken into custody under suspicion of committing a fatal act through dangerous driving. According to authorities, this individual is thought to have been operating the black Toyota C-HR that collided with the boy on the carriageway.
In the aftermath of the collision, the vehicle responsible for the incident failed to halt at the location of the incident, leading to an appeal by the West Yorkshire Police for any relevant information.
This new development in the case follows the arrest of a 36-year-old man over the weekend. The arrest was based on suspicion of contributing to the child's demise through either causing or permitting the circumstances that led to the tragic event.
The police's account of the incident states that the young boy was struck by a vehicle as he walked on the eastbound section of the motorway between junctions 25 and 26 at approximately 9.50pm on Saturday.
According to a spokesperson from the West Yorkshire Police, they believe that the boy had been walking on the M62 alongside another individual subsequent to an earlier collision involving an Audi Q5 on the slip road leading to Hartshead services.
Detective Chief Superintendent Sarah Jones from West Yorkshire Police has emphasized that the police force is actively engaged in ongoing investigations into the tragic and distressing crash incident. She also underscored the importance of providing support to the family of the victim during this difficult time.
DCS Jones further appeals to individuals who may possess relevant evidence, such as CCTV or dashcam footage capturing the movements of the Toyota C-HR subsequent to the collision with the young child. She urges these individuals to come forward and cooperate with the authorities by sharing this footage with them. This information can greatly contribute to the ongoing inquiry and assist in uncovering the details surrounding the incident.
She said: "We would appeal for footage taken of the black Toyota, which had sustained damage to its front and windscreen, taken between 9.50pm and 10.30pm during which period we believe the car travelled from the Chain Bar roundabout along Whitehall Road (A58) towards junction with Westfield Lane."