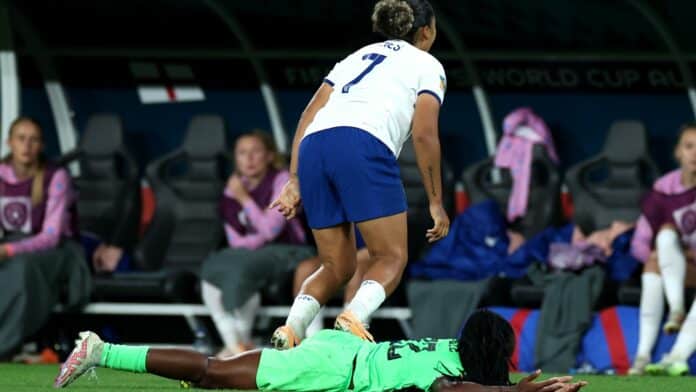 At the tender age of 21, James solidified her position as the standout performer for the Lionesses throughout the group stage, propelling them to the grand finals in Australia and New Zealand. Her ill-advised challenge against Michelle Alozie resulted in a red card during England's recent contact encounter with Nigeria.
England's forward, Lauren James, has extended her apologies to her Nigerian opponent whom she inadvertently stamped on during their World Cup match. As the situation unfolds, James is awaiting FIFA's decision on whether the initial one-match suspension will be escalated, potentially causing her to miss additional games should England advance by defeating Colombia in the quarter-finals.
The incautious challenge to the back of Michelle Alozie led to James receiving a red card, forcing England to endure extra-time with a reduced squad of 10 players. Despite this setback, England managed to triumph over Nigeria, prevailing 4-2 in the penalty shootout.
"All my love and respect to you," James posted on the social media network X, formerly known as Twitter, to Alozie. "I am sorry for what happened."
It was a response to Alonzie posting: "we are playing on the world's stage. this game is one of passion, insurmountable emotions, and moments. all respect for Lauren James."
On Monday night, within the confines of the dressing room in Brisbane, Lauren James conveyed her apologies to her fellow England players, as recounted by the team. Subsequently, James chose to publicly address the matter today.
She wrote: "For our England fans and my team-mates, playing with and for you is my greatest honour and I promise to learn from my experience."
Merely at the age of 21, James had already carved out a reputation as the standout player for England throughout the group stage of the tournament.
During the match against China, the Chelsea player showcased her remarkable skills by netting two goals and providing assists for three additional goals, ultimately propelling England to a resounding 6-1 victory.
An England team statement said: "Lauren is really sorry for her actions which led to the red card and is full of remorse. It is wholly out of character for her.
"We will be supporting Lauren throughout and will be putting forward representation on her behalf. We fully respect FIFA's disciplinary process and will not be making any further comment until after any decision has been made."