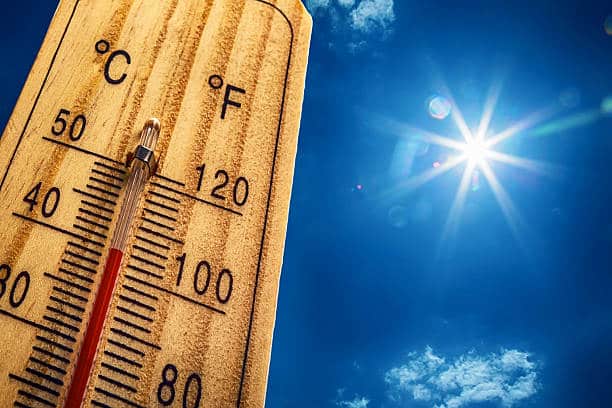 A significant heat health alert in amber has been declared for extensive regions of the United Kingdom, as a brief heatwave is poised to usher in temperatures surpassing those typically experienced in Ibiza. This heatwave also poses a potential challenge to breaking records for September temperatures.
The United Kingdom Health Security Agency (UKHSA) and the Met Office had initially issued a yellow warning but have now elevated it to amber for eight regions in England, encompassing London.
The heat-health alert will remain in effect from noon on Tuesday until 9 pm on Sunday.
In addition to London, the following regions are covered by the amber alert: the South-East, South-West, North-West, East Midlands, West Midlands, East of England, and Yorkshire and the Humber.
The alert means the weather impacts "are likely to be felt across the whole health service".
The UK Health Security Agency (UKHSA) issued a cautionary advisory, emphasizing that individuals aged 65 and older or those with pre-existing health conditions, such as heart or lung ailments, may face an elevated risk during this period.
Dr Agostinho Sousa, Head of Extreme Events and Health Protection at UKHSA, urged people to "take sensible precautions while enjoying the sun and look out for those who are more vulnerable to the effects of heat".
"We advise you to check on older family members, friends, or neighbours and those with heart or lung conditions," he said.
"Staying hydrated and keeping cool is crucial for everyone during hot weather, while enjoying the sun."
The impending heatwave is poised to deliver daytime temperatures reaching 32°C, with its peak expected on Wednesday and Thursday.
During this time, the UK is projected to experience temperatures 4°C higher than the Spanish island of Ibiza. According to the Met Office, temperatures may even surpass those in Ayia Napa, Cyprus (30°C), and Athens, Greece, where it could reach 27°C on Thursday.
This heatwave could potentially mark the hottest day of the year in Britain, potentially matching the year's previous record of 32.2°C recorded in June.
It will bring uncomfortably warm nights, especially in southern regions, as the Met Office predicts the occurrence of "tropical nights" when temperatures do not drop below 20°C. Weather experts suggest that the current record for the highest overnight minimum temperature for September, currently standing at 21.7°C, could be broken, particularly on Wednesday and Thursday nights.
"(It could be) a warm night overnight on Wednesday, with the potential for temperatures not dropping below 20 degrees, which is what we term a tropical night," said Met Office spokesperson Oli Claydon.
"That's most likely in the southern half of the UK and more likely in urban areas where the temperatures obviously stay up that little bit higher overnight.
"Then as we move through to Thursday, another hot day with highs of 31 to 32. And again, another warm night with potential for a tropical night on Thursday."
As of my last knowledge update in September 2021, the UK had not typically experienced consecutive tropical nights in September. However, weather patterns and conditions can change, and unusual weather events may occur.
It's essential to stay updated with the latest weather forecasts and reports from reliable sources to understand and prepare for any unprecedented weather occurrences in your region.
Mr Claydon said: "We will see good sunny conditions through the week with cloudless skies, and some high temperatures by the time we get to Wednesday and Thursday, where we could see 31 maybe 32 degrees.
"The high temperatures are quite widely spread across the UK, although the highest temperatures are probably somewhere in south-eastern England spreading out to central parts of England as well."
The forecaster explained tropical storms in the far western Atlantic and deep areas of low pressure have helped to amplify the jet stream over the Atlantic Ocean and has led to high pressure "dominating over the UK".
The Met Office said temperatures could also hit 31C on Friday.
But the weather conditions could change over the weekend and Mr Claydon said there is "no indication at the moment of another strong heatwave after this".
He added: "Through the weekend, we start to see some heavy, potentially thundery, showers developing but (they are) only isolated. There is a little bit of uncertainty as we start to get that far ahead."
Average temperatures are expected to return by the middle of next week.