A huge pane of glass fell from the Raddison Blu Hotel at rush hour yesterday (8 May). One local says lockdown prevented a significant injury, as the streets were empty.
BirminghamLive reported the scary incident happened just after 5pm yesterday. A massive pane of glass from the Raddison Blu Hotel fell from around 200ft onto the pavement below.
Ordinarily, this would have been around rush hour on the busy Birmingham city street. However, a local shop owner believes that lockdown prevented a significant incident.
The Raddison Blu Hotel is located on Suffolk Street Queensway. It is usually jam-packed with commuters at that time of day heading towards Birmingham New Street station. It is also said to be a busy route for theatregoers as they make their way to Alexandria Theatre.  
A resident in the nearby Westside Apartment sent a picture of the pane of glass to BirminghamLive, and it shows the glass was approximately halfway up the building.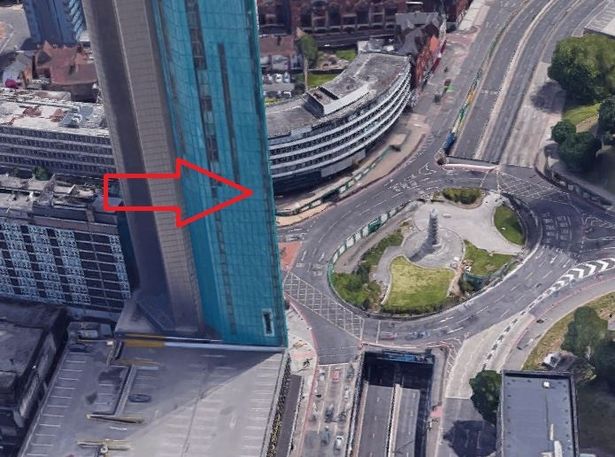 The city is extremely quiet at the moment due to lockdown, and as it was also a bank holiday, people were also enjoying a day off.
The West Midland Police confirmed the event just after 6pm. However, the hotel had not issued a statement regarding the incident at that time.
Londis manager, Mukesh Kumar described the incident to the news outlet saying "There was a noise and then a big bang – it seemed like a bigger amount was coming down after the first."
"Then there was glass on the floor, everywhere.
"It is so lucky that there was nobody abound – the lockdown has decimated our trade.
"The glass hit the veranda above the entrance and then ended up in the road.
"There is glass everywhere now."
The hotel is currently closed until at least the 18 May die to current Covid-19 restrictions.
Southside BID patrols were present at the scene, and it is believed they were at a separate callout nearby. There were police officers and paramedics pictured, but BirminghamLive reported the two incidents were not considered to be related to the window event.
Concern about other Birmingham buildings
Earlier this week, details emerged of a new 49-storey building in the city centre. Otherwise known as Octagon, this new structure will stand 110ft higher than the Radisson Blu Hotel in the new Paradise area of the city.
There have been concerns over the safety of such high rises. With this incident, local shopkeeper Mukesh told Birmingham Live "Safety needs to be the top priority with these tall buildings." He also wondered how long it would take to secure and check the rest of the Beetham Tower, where the Raddison Blu Hotel is located.
The Beetham Tower is said to command the tallest accolade in the city. It is currently second to the BT Tower. The hotel occupies a section of the building, and there are apartments above this.
The glass pane that fell is believed to be over the top area of the NCP New Street Station Car Park.