H2B Windows have recently provided the windows and doors for the NICU Big Build at Luton & Dunstable Hospital, helping multiple sets of parents of vulnerable newborns in the ICU to stay close to their babies and ensure bonding continues throughout their treatment. 
More About H2B Windows And The Double Glazing Grant For Luton and Dunstable Hospital Parents Accommodation
H2B Windows recently provided a grant for Luton and Dunstable Hospital Parents Accommodation that covered the cost of 22 windows & 2 doors fully installed. Usually, the big build would not have been suitable for the grant due to the eligibility criteria, but H2B Windows made an exception for a worthy cause. This, alongside other generous donations that companies and services in the area have made, has helped the project to continue moving forward and ensure that parents who are already going through a stressful time can stay near their babies and have a place to eat, sleep, and try to relax. In total, 5 sets of parents can stay in the accommodation and remain close to their babies, staying involved with treatment and ensuring that some of their stress is alleviated.
[embedyt] https://www.youtube.com/watch?v=dIgCtnTCNaY[/embedyt] 
More About The Neonatal Intensive Care Unit and The NICU Big Build

The Luton and Dunstable neonatal intensive care unit provides the highest level of care, spending their time looking after the smallest, sickest, and most vulnerable newborn babies in need of help. There are 37 cots, 11 of which are intensive care, 8 are HDU, and the remainder are special care. 
This service is not just for babies born in Luton and Dunstable, but the whole of the East of England. This is why having suitable accommodation nearby for the parents of these babies is so important. Travelling to and from the hospital isn't easy and can be a huge expense. Families can have the baby on the unit for a number of months, as they may be born as early as 23 weeks of gestation. 
Jennifer Birch is the clinical director of the Luton and Dunstable neonatal intensive care unit. According to Jennifer, babies can be with the unit for as long as 5 months sometimes, so appropriate accommodation for the parents to stay close to their baby is crucial.
There is now one property that provides bedrooms for parents to stay in with 5 bedrooms. This is a place they can get a little normality, have food, relax, sleep, and allows parents to be close to their baby. Having accommodation like this is absolutely essential, as parents must feel involved with the baby's care. Not only that, parents are then able to spend lots of time at the baby's cotside, which means skin to skin contact and bonding, which is very important in their baby's early stages.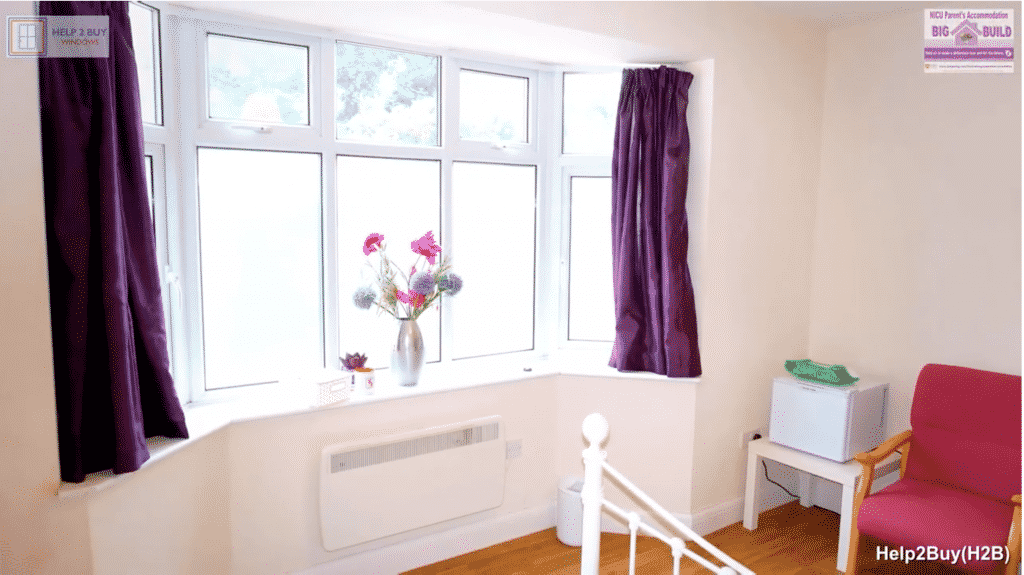 There are 100 neonatal nurses that provide the day to day nursing care and specialist care for babies, as well as a number of allied health professionals that support their care. This includes a pharmacist, dietician, physiotherapist , psychotherapist, and more. These people are here to support both parents and staff in dealing with the stress and trauma that can be involved with having a baby on an intensive care unit. It's important to support parents, but also to support staff to ensure they are coping and able to provide the required care. It can be an extremely stressful time that is difficult to process, but these professionals help parents and staff to take care of their mental and physical health. 
It had been identified for some time that parents needed accommodation to be close to their babies. The hospital looked at different options, including renting a house. However, the house came up for sale and it seemed to make more sense. The trust purchased the house fully aware it would need a lot of work doing to transform it into suitable accommodation, but then had to deal with the question of how they were going to fund the renovation work. 
The charity team that works on raising money for the neonatal unit worked very hard to raise awareness and get donations, and soon word began to spread throughout Luton, Dunstable, and the East of England. Jennifer Birch emphasises that without any of the people who donated their time, services, and materials to the project, it would not have been able to go ahead or reach completion. 

A local builder that had a baby on the neonatal intensive care unit volunteered his services to project manage the build to start things off. Everything to do with the house has been done through donations, and people donating their time, services, and products. Every little thing, from the plasterboard to the doors have been donated. 
The generosity of businesses and individuals in the area is what has enabled the building to be transformed into a place that parents can use to stay close to their babies. Help 2 Buy sourced the windows and covered the cost of installation, while First Home Improvements carried out the work. 
H2b Windows
H2B Windows are proud to be a sponsor of the Luton and Dunstable hospital and to have helped with the NICU units big build parent's accommodation project. Below is a timeline of the progress of the project and all who have helped to keep it moving forward month after month. 
A Timeline Of The Luton and Dunstable Hospital Parents Accommodation Progress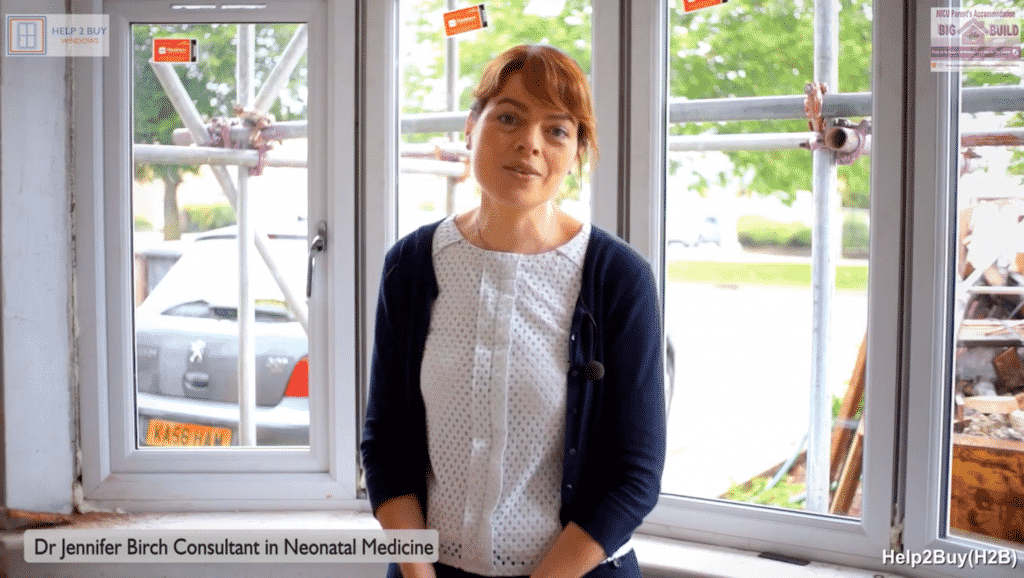 20th February 2019 – the accommodation was not suitable for anybody to live in. The building was an empty shell and very old fashioned in nature. 
26th Feb 2019 – Cawleys started off the momentum of the project by donating a skip to help remove waste during the renovation. 
27th Feb 2019 – Lewis Horsted ripped out the current bathroom and sink area, and handyman Vasile knocked out the bathroom tiles. 
1st March 2019 – Danny from Bellspire Ltd provided a free asbestos survey to ensure the safety and livability of the property. 
5th March 2019 – Subway, Dominic Square in Lewsey Farm provided NICU Big Builders with a sandwich platter and drinks to keep them going throughout the tough renovation. 
5th March 2019 – work to remove the ceilings and walls in the living room began. This was in order to convert the rooms into two more bedrooms to enable 5 sets of parents to live in the accommodation. 
7th March 2019 – Select Scaffolding select scaffolding provided the scaffolding for the big build. 
18th March 2019 – Community Champion Kirsty Mcdade at Tesco in Dunstable organised donations of refreshments for the NICU Big Builders. The builders were of course very grateful for the donation and the sustenance. 
18th March 2019 – Bryan James from Stroma Building Control provided a free service and testing on the newest Parents Accommodation. This ensured that Building Regulation compliance was achieved. 
19th March 2019 – Reeson Network Ltd​, Baileys Heating Company Ltd, Butterfields and Gibbs and Dandy Luton all donated materials for the NICU big build. 
20th March 2019 – Cronin Electrical and Eyre and Elliston, High Wycombe donated all of the cables required, as well as all of the sockets for the NICU big build project. 
23rd March 2019 – June Tearle donated handmade cakes and refreshments for the NICU builders. Michelle from R Burtons and Sons dropped them off at the house
24th March 2019 – Wavin Group, Geberit, Hager Group and Alpha Heating all donated parts towards the NICU big build worth £4,000. 
2nd April 2019 – Sean Denton and James from SJK placed plaster boards in the NICU parents accommodation. They also fitted the ceilings in the kitchen and downstairs area, along with a wall to divide the downstairs area into extra rooms. 
3rd April 2019 – Sainsburys in Dunstable, Community Champion Sally donated refreshments for our NICU Big Builders.
15th April 2019 – the NICU parent's accommodation got a new secure roof. Michael Mapp removed the old roof, Samantha Hanks and Cembrit UK donated a range of materials, Richard and Emma Black (H. McIntyre & Sons LTD) donated products, Danny Hirst and Assured Roofing & Specialist Leadworks put up the new roof.
13th June 2019 – Leavgrave Heating Supplies, AHMCO Heating Supplies, WAQAS, Saint-Gobain Weber, Ceramic Tile Distributors, H2B Windows, First Home Improvements and CDR Electrical made donations of supplies and goods towards the NICU Big Build. 
9th August 2019 – We are delighted to have received 22 windows and two new doors for our new NICU Parents Accommodation from H2B Windows – thank you so much!
5th September – Flooring, furniture and artwork has started going in!
13th September – The house signage and door sign has gone up
Others Who Have Supported The Project 
[embedyt] https://www.youtube.com/watch?v=dA00tfZUjoo[/embedyt]
Richard King from All-Time Electrical

Rob Dalton from Dalton Electrical (Rob's grandchild spent time in NICU)

Ben from B-A-R Electrical and Mechanical Services

Matt Dixon and Chris Bailey from BHC: Baileys Heating Company, (Matt's son spent time in NICU) 

Ben from That Chippy Ben

Olly and Sonny from BBK
Bianca –
'We couldn't have done it without you' 
Bianca is the community fundraiser at Luton and Dunstable charity – one of the people who worked hard to get donations and raise awareness for the big build. 
Bianca explains that the project couldn't move forward, as they struggled to find donations for windows, which put a big hold on the project. She said that H2B's donation of windows/doors and the installation of windows and doors to the property was an amazing donation. She said, 'you don't know what this means to the people who are going to be using the accommodation when it's finished.' 
Michelle – '
Blown away' 
Michelle is the office manager R Burton and Sons Builders, and one of the project managers of the Luton and Dunstable NICU Big Build. She was the person who contacted H2B windows, and explains that she knew the project didn't initially fit the criteria. As Help 2 Buy knew it was a worthy cause, they agreed to make an exception and Michelle was taken aback by how the team made it a seamless process and kept her updated every step of the way.  She says that the 'windows and doors have transformed the house'. 
About The Help 2 Buy Windows Grant Scheme
The Help 2 Buy Windows Grant Scheme is not a government scheme. You can apply for a free no obligation assessment and get the windows you've always dreamed of if you fit the criteria. This will in turn increase the value of your home, and could result in reduced heating bills that directly correlates to more money in your pocket. Those who are approved for the grant can also choose from hundreds of colours and styles to suit the property, unlike other schemes. The Help 2 Buy plan means you don't have to part with your hard earned savings. 
The Help 2 Buy scheme ultimately aims to help as many people as possible who are in need of help when it comes to new windows and doors. 
1. Free Windows & Doors Help2Buy Window Grant Scheme (Qualifying Criteria Apply)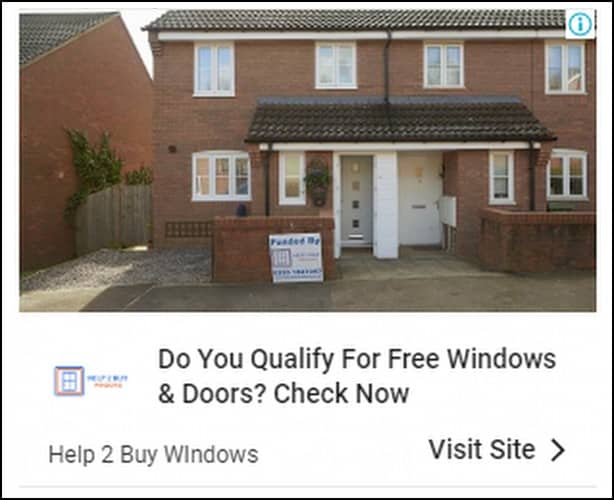 Qualifying homeowners can have new windows & doors installed at absolutely no cost to them. The Help2buy Windows Scheme is committed to helping those in need to improve their energy efficiency and lower their energy bills through the installation of high efficiency double glazed windows and doors.
Window Grants will be handed out subject to qualifying criteria & funding levels available for the scheme. The Help 2 Buy Windows Grant has nothing to do with the UK government it is funded 100% by Help 2 Buy windows through the sale of leads to our clients. 
2. Window & Door Funding (Qualifying Criteria Apply)
This is suitable for homeowners looking to have new windows & doors without the upfront costs. A select few UK based installation companies working with the Help2Buy Windows Scheme have access to funding options designed to help homeowners gain access to home improvements that would otherwise be unaffordable.
Using funding options, it's possible to spread the cost of new windows and doors and eliminate the requirement to part with a large sum of money. Many funding options have absolutely no upfront costs, and this can be hugely beneficial to the homeowner. Needs will be assessed on a case by case basis in order to ascertain the level of funding required to obtain new windows and doors for the property. 
Funding for this option is not provided by Help 2 Buy Windows, so if you do not qualify for the grant you will be offered the option to be passed to one of our installation partners who will provide funding through their own funding facility.
It's important to note that H2B Windows Ltd does not make credit decisions, and is not a lender. H2B Windows Ltd introduces customers to Help 2 Buy Windows Approved Installers, who match loan applications with lenders on their panel who will aim to match you to one of their lenders, all based on the information that you provide.
Some of the funding options available include:
36 months Interest Free Credit

24 months Interest Free Credit

Buy Now Pay in 12 Months

Low Rate Monthly Finance
3. Best 4 Less Guaranteed
This is best for homeowners who are looking to purchase windows & doors. With Best4Less you will get high quality, secure and valuable products at the most cost effective prices. This is done by dealing straight with the manufacturer, so Best4Less can cut out the typical wholesale and retail costs of buying new windows, saving thousands of pounds off new windows and doors.
It's important to note that each time a product changes hands, a mark-up is added to them. Usually, by the time windows reach an installation company, 40% has been added on to the price of the windows by the wholesale suppliers. This cost is eliminated with this scheme by only dealing with the very largest manufactures in the country.
Basic Criteria:
Must be a homeowner (no council or housing association)

Must be Employed, Self Employed or Retired
Why Use The Help 2 Buy Scheme?
Using the Help 2 Buy scheme is suitable for those who may need help purchasing windows and doors for their property. Not being able to afford these in the first instance will mean being unable to make energy efficient improvements to a property, which can cost a lot more money. H2B Windows is a cost effective solution for both windows and doors, and it's easy to see what you may apply for. Only high quality double glazing products are used, and this is important as many companies offering cheap double glazing are out there.
Where Does The Money For The Grants Come From?
The Help 2 Buy Grant Scheme was launched in February 2018 to help people in difficult circumstances cover the cost of new windows and doors. This Initiative is funded entirely by private donations from the company, its staff, contractors and partnering organizations. The Help 2 Buy Grant Scheme is not a government organization and receives no financial assistance from the UK government.
How Is It Decided Who Will Receive A Grant?
The Grant Scheme currently offers aid only to people within a set qualifying criteria, apart from exceptional circumstances like the Luton and Dunstable Hospital Parents Accommodation. 
As the fund is limited, the decision is made to help the most needy persons all on a first come first served basis. Assistance is currently offered to Single Parent Homeowners, with disabled or critically ill children, Employed, self employed with a low income under £10,000. 
This may change in the future as more funding becomes available. The company reserves the right to change its qualifying criteria without prior notice and offer grants outside of this criteria at its discretion.
What To Do If You Do Not Qualify For A Grant
An alternative option will be offered that may be beneficial for the applicant's circumstances.This may be an alternative source of funding or financing via one of H2B's partner companies. The applicant will need to confirm that they are happy to be transferred and the application process will be continued.
How to Know If You Have Qualified For A Grant
You will be contacted and told that your application is being considered. A series of questions will be put to you to ensure you are eligible and assess your situation. Proof of your circumstances may be required to ensure that funding for this only goes to those who need it most first and foremost. 
What Happens If There Is Not Enough Funding?
The applicant will be informed that they are being added to a list of grant eligible homes and will be contacted when funding becomes available. No details will be transferred, circulated, or passed on without the applicant's permission. Data will be held securely under ICO and GDPR guidelines.
How Many Grants Are Handed Out? 
There is no set number of how many grants will be handed out. One applicant may require a simple front and back door, while one house may need a whole new set of windows and doors, so how many grants are handed out is impossible to predict. There's no cap on how many H2B Windows aim to install under the scheme, as it is driven entirely by private contributions. Ultimately the ongoing success of this initiative will hinge on people, companies and hopefully the government getting behind it. The team hope to install as many as possible. 
Use The Checker Today To See Which Of The Three Options Are Available To You
A checker can be used to see which one of the three options are available to you and your circumstances. Simply input information such as number of windows, number of 
external doors, employment status, annual household income, and so on into the checker, and you will quickly be able to see what you are eligible for. 
New windows and doors will be required by all homes at some stage. They keep a house safe and secure, not to mention well insulated in order to help save money on utility bills. New windows and doors can also make a huge aesthetic difference to a property, enhancing the value and adding curb appeal. 
If you believe you may be eligible and your property needs new windows and doors, use the checker and get in touch with H2B Windows today.