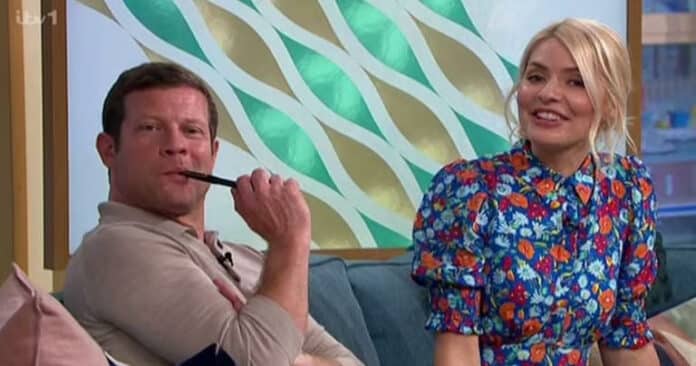 During Gino D'Acampo's return to the ITV mid-morning show on Tuesday, This Morning hosts Holly Willoughby and Dermot O'Leary experienced a moment of discomfort when he inquired about any noteworthy updates, saying, "Is there any news I should know about?"
This occurred in the wake of Phillip Schofield's departure from the show and from ITV altogether. Schofield had resigned after more than 20 years on the program, following his admission of dishonesty regarding an affair he had with a younger colleague.
D'Acampo, who had recently returned from a month-long trip to Italy, reassured everyone during a preview of his cooking segment, declaring, "Everything is under control. I'm back. I was in Italy for a month and returned two days ago.
"Any news from the last month that I should know of? Anything I should know?"
Willoughby replied: "No. No news."
A sudden hush fell over the studio, accompanied by a noticeable silence. Dermot O'Leary gazed awkwardly at the scene, his eyes fixed on the unfolding situation, while nervously chewing on his pen.
Picking up on the energy of the studio changing, the celebrity chef asked loudly: "Why is nobody talking anymore, what's happened?"
Gino D'Acampo's jest seemed to allude to a remark made by This Morning boss Martin Frizell during the Schofield fallout. With a humorous tone, D'Acampo playfully mentioned altering his recipe, as he stated,"apparently I can't do anything with aubergine".
When asked if it was true This Morning was "toxic", Frizell said: "Do you know what's toxic, I've always found toxic, is aubergine."
Before turning to the journalist and asking: "Do you like aubergine? Do you?"
Following D'Acampo's previous remark, O'Leary lightened the mood with a joke, suggesting that it might be D'Acampo's first and last day back, playfully stating, "We might need to rephrase it, Gino is back for a one-time only." The amusing exchange left viewers flooding with comments, expressing their satisfaction that the chef "never fails to entertain" or "doesn't disappoint."
One tweeted: "Gino doesn't disappoint does he. 'I've been in Italy for a month, any news I need to know about?' [Cue] poor Holly looking awkward".
"Gino never disappoints, causing Dermot and Holly to squirm a bit making light of the Phil saga," another shared.
A third added: "Bet This Morning wish they hadn't booked Gino today now. I was looking forward to baked aubergine as well!"