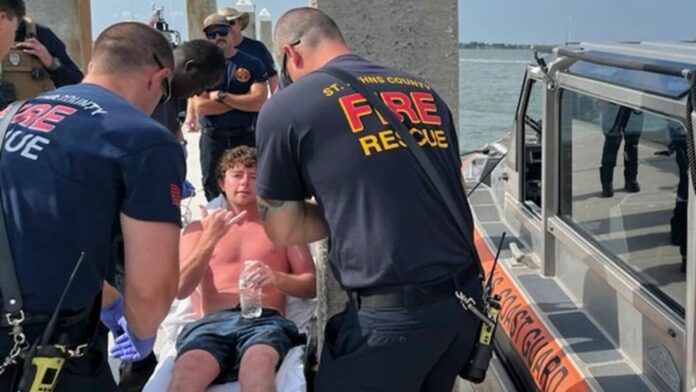 On Friday, Charles Gregory, a 25-year-old individual, disappeared while being 12 miles away from the Florida coastline. This unfortunate event occurred when a wave struck his flat-bottomed boat, causing him to be thrown into the water. Although he initially regained his footing on the vessel, he was eventually carried away by the currents, ending up adrift at sea.
After spending over 24 hours adrift at sea near the Florida coastline, a man has been successfully rescued from a boat that had become partially submerged.
The individual in question, Charles Gregory, aged 25, had embarked on a journey aboard a 12-foot jon boat on Friday, departing from the coast by 12 miles. According to information provided by the US Coast Guard, he was reported missing by his family after he failed to return to St. Augustine later that same day.
Reported by CNN, Mr. Gregory's intended early morning fishing expedition took a dire turn when a wave impacted his flat-bottomed vessel, causing him to be thrown into the water. This incident led to his subsequent ordeal at sea.
He managed to get back on board but was swept out to sea and "struggled to stay alive" under the Florida sun, his father told the network.
"He was scared to death," Raymond Gregory said, describing how his son suffered jellyfish stings and saw sharks during his ordeal.
"He said he's had more conversations with God in that 30 hours than he's had his whole life."
On Saturday morning, a Coast Guard aircraft successfully located Mr. Gregory, who was seated within the partially submerged boat. Captured footage of the rescue reveals a boat crew cautiously approaching the distressed vessel while Mr. Gregory waves, with his feet immersed in the water.
Following this sighting, the Coast Guard team proceeded to transfer him safely back to the shore. From there, he was handed over to the emergency medical services, who subsequently transported him to a hospital for evaluation and care.
The Coast Guard has confirmed that no immediate medical concerns were identified during this operation.
According to Mr. Gregory's father, his son experienced sunburn during the daytime and encountered difficulties staying warm during the night.
"At night being sunburnt, and the wind would be blowing, he said it was freezing cold out there in that water," he said.
"At the end of the day, the whole moral of the story is 'don't ever give up'."
Coast Guard Sector Jacksonville Commander Nick Barrow said he was "pleased with the outcome" of rescuing Mr Gregory from a "life-threatening situation".
"It highlights the importance of having safety gear onboard and being prepared for the worst," he said.
"If you plan to head out on the water, remember to have a life jacket, VHF marine grade radio, signalling devices and an emergency personal locator beacon to contact first responders in case you are in need of assistance."