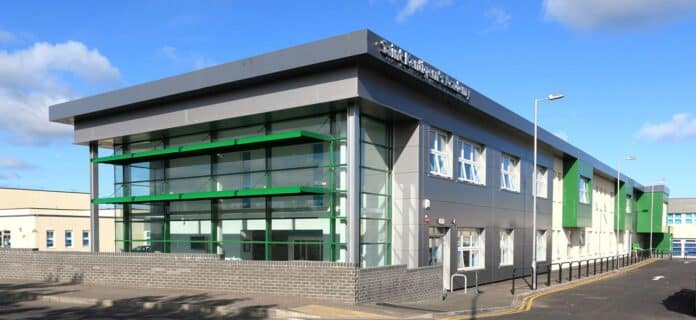 Emergency responders rushed to St. Kentigern's Academy on Tuesday afternoon following a distressing incident. Sadly, a young boy, whose identity remains undisclosed, was swiftly transported to the hospital for urgent medical care. Despite the immediate efforts made by healthcare professionals, the boy's condition deteriorated rapidly, leading to his unfortunate passing shortly thereafter.
Tragic Incident at St. Kentigern's Academy in Blackburn, West Lothian: Unidentified Teenager's Untimely Demise Prompts Investigation and Ongoing Emotional Support for Fellow Students.
Emergency services were urgently summoned to St. Kentigern's Academy in Blackburn, West Lothian, on Tuesday afternoon. The exact circumstances surrounding the incident remain undisclosed. However, the teenager involved, whose identity has yet to be revealed, was promptly transported to the hospital via ambulance. Regrettably, despite receiving immediate medical attention, the young individual passed away within a short period of time.
In light of this heart breaking event, detectives convened with education authorities on Wednesday morning to discuss the tragic loss of the student. Meanwhile, the school continues to provide necessary emotional support to other students impacted by the distressing incident.
Contrary to social media speculation within the community suggesting a connection to a "tap out" game, police sources have categorically stated that the incident at St. Kentigern's Academy in Blackburn, West Lothian, was not linked to any "online challenge."
Amid ongoing investigations, Police Scotland has declined to provide any comments or statements regarding the incident at St. Kentigern's Academy in Blackburn, West Lothian.
A force spokesperson stated:
"Around 1.20pm on Tuesday 6 June 2023, officers were called to a report of concern for a 14-year-old boy at a school in the Bathgate area.
"He was taken by ambulance to hospital for treatment, but died a short time later.
"His family have been informed and enquiries are ongoing to establish the full circumstances of the death."
The school, which counts singer Lewis Capaldi among its former pupils, had previously described the incident as an "isolated incident" that occurred within the school grounds.
Headteacher Andrew Sharkey expressed:
"We have set up ongoing emotional support and signposting for students and staff affected by this tragic news. We would like to respect the family's privacy at this incredibly painful time."
Mr. Sharkey confirmed that the school is cooperating with the appropriate authorities and, currently, they will refrain from providing additional comments.
Local MSP Fiona Hyslop commented:
"My deepest condolences are with the family and friends of the pupil who has died. I hope those closest to him are given the privacy they deserve at this tragic time.
"This will be an incredibly difficult time for everyone – not least the pupils, teachers and staff at St Kentigern's Academy.
"The support being offered at the school will be crucially important right now – and, in my capacity as their MSP, I will do everything I can to help the community through this awful situation."