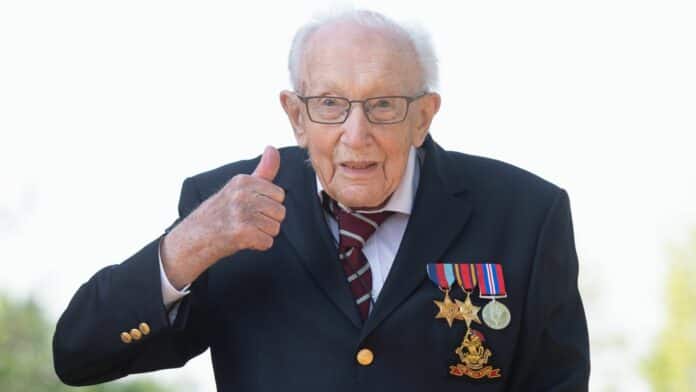 Planning authorities have mandated the demolition of an unauthorized structure situated in the residence of Captain Tom's daughter. This decision comes after the rejection of proposals for a building that would have housed a spa pool.
In 2021, Hannah Ingram-Moore and her husband Colin sought permission to construct a Captain Tom Foundation Building on their property located in Marston Moretaine, Bedfordshire.
The L-shaped structure was granted approval, and as stated in the design and access and heritage statement, it was intended to be utilized partially "in connection with The Captain Tom Foundation and its charitable objectives."
The subsequent retrospective application made in 2022 for a larger C-shaped building that would include a spa pool was denied by the planning authority.
According to the supporting documents, the proposed structure was described as "a new building intended for the use of the occupants" of Mr. and Mrs. Ingram-Moore's home. In the design and access and heritage statement, it was referred to as The Captain Tom Building.
Sir Tom, who tragically passed away in February 2021, raised an impressive £38.9 million for the NHS, including Gift Aid. He achieved this remarkable feat by walking 100 laps of his garden in April 2020, during the height of the first national Covid-19 lockdown, just before his 100th birthday.
According to a spokesperson from Central Bedfordshire Council, the designated planning authority for the region, they confirmed on Tuesday that they had received a planning application in August 2021. The application sought permission for the construction of a detached single-story building. The proposed structure was intended to be erected by the occupants of the Ingram-Moore residence, as well as the Captain Tom Foundation.
The spokesperson also mentioned that the initial planning application for the detached single-story building was approved. However, in 2022, planners received a retrospective planning application for the "part retrospective erection of a detached single-storey building (revised proposals)". Unfortunately, this application was refused by the planning authority.
The council spokesperson said: "An enforcement notice requiring the demolition of the now-unauthorised building was issued and this is now subject to an appeal to the Planning Inspectorate."
The Captain Tom Foundation said, in a statement to a national newspaper: "At no time were The Captain Tom Foundation's independent trustees aware of planning permissions made by Mr and Mrs Ingram-Moore purporting to be in the foundation's name.
"Had they been aware of any applications, the independent trustees would not have authorised them."