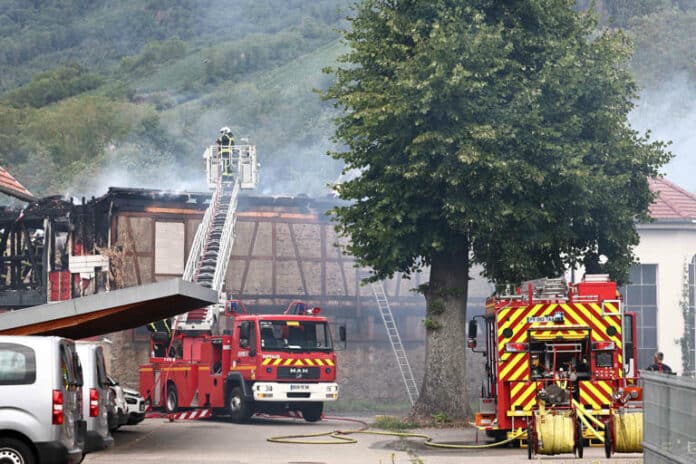 A fire erupted in a vacation cabin catering to individuals with learning disabilities in the north eastern region of France, sparking concerns for the safety of eleven people who are now unaccounted for and presumed to have perished.
The inferno ignited at approximately 6:30am local time (5:30am UK time) on Wednesday, engulfing the establishment situated in the quaint town of Wintzenheim, which is situated near the French-German border in the northeast.
As of Wednesday morning, the search and rescue efforts were still underway, with eleven individuals, all adults hailing from Nancy in the eastern part of France, remaining unlocated.
Reports from France 3 indicated that among the missing are ten adults with disabilities, accompanied by one staff member.
"We're almost certain of the death of the missing people," senior local official Christophe Marot said on the site of the fire, France 3 TV reported on its website.
"We're cautious until we've located all the bodies," he added.
Situated approximately 50 miles south of Strasbourg, the vacation residence had been leased by a charitable organization dedicated to supporting individuals with learning disabilities, according to reports from France 3.
As the flames raged, seventeen occupants were successfully evacuated from the premises. Among them, one individual required urgent medical attention and was promptly transported to the hospital, as confirmed by local authorities.
Responding to the emergency, a comprehensive team of 76 firefighters, accompanied by four fire trucks, four ambulances, and 40 police officers, was swiftly mobilized to both contain the conflagration and provide aid to those affected.
The fire's destructive path consumed around 300 square meters of the total 500 square meters comprising the structure, yet the rapid and coordinated efforts of the firefighting team managed to promptly bring the blaze under control.
French Interior Minister Gerald Darmanin tweeted that "early this morning, a fire broke out in a facility for disabled people".
"Despite the rapid and courageous intervention of the fire department … several casualties are reported," he said.
Prime Minister Elisabeth Borne announced her immediate journey to the location in the Haut-Rhin department within the Grand Est region of north-eastern France.
"My thoughts are with the victims and their loved ones," she posted on messaging platform X, formerly known as Twitter.
President Emmanuel Macron also shared his condolences, writing: " Faced with this tragedy, my thoughts go out to the victims, to the injured, to their loved ones."