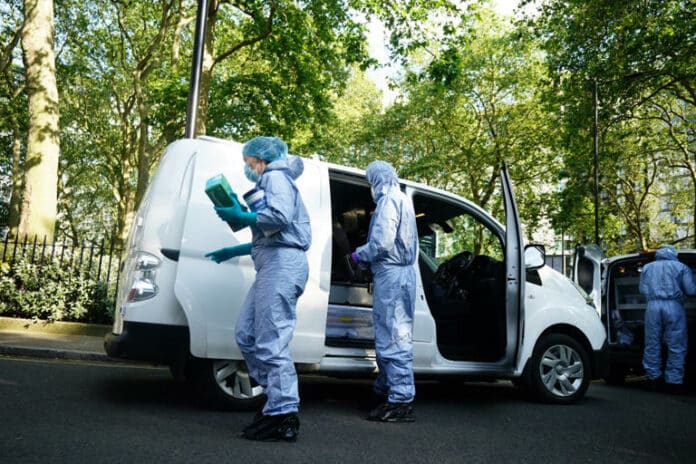 On Monday afternoon in Westminster, a tragic incident unfolded as a young boy, estimated to be around 17 years old, lost his life due to a stabbing.
At approximately 1:41pm, the authorities received a distress call from Paddington Green, prompting the swift response of the police. Accompanied by paramedics from both the London Ambulance Service and London's Air Ambulance, officers rushed to the location.
Upon arrival, they discovered a teenage boy, believed to be 17, suffering from a severe stab wound. Despite the valiant efforts of the emergency services, tragically, the young boy succumbed to his injuries. His passing was pronounced at the scene, just a little over 30 minutes following the receipt of the urgent 999 call.
In an official statement, Scotland Yard has confirmed that the next of kin of the deceased teenager have been notified about the tragic incident.
Following the unfortunate incident, the police promptly cordoned off the vicinity surrounding the victim's body. Throughout Monday evening, several officers maintained a presence at the entrances to the green as part of the investigation.
During this time, a group of young individuals, visibly distraught, were observed on the steps of City of Westminster College, which is situated on the periphery of the green.
At present, inquiries into the circumstances surrounding the incident are actively underway. It is important to note that no arrests have been made thus far, as the authorities continue their efforts to gather information and seek justice.
Local MP Nickie Aiken tweeted: "Very sorry to learn the police are investigating a murder in Paddington. My thoughts are with the family and friends of the victim."
Any witnesses or anyone with information is asked to tweet @MetCC or call 101 quoting CAD 4068/19JUN.To remain anonymous contact the independent charity Crimestoppers on 0800 555 111.