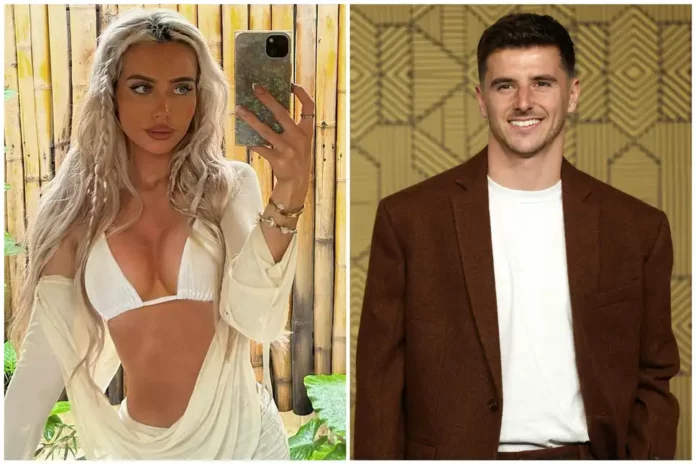 On Tuesday, a self-proclaimed "Devil Baby" model, who harassed Premier League stars Mason Mount, Ben Chilwell, and Billy Gilmour, will face sentencing.
Orla Sloan, 21, relentlessly bombarded the footballers with calls, texts, WhatsApp messages, and Instagram posts after a brief relationship with Mount, which he subsequently ended. Sloan went to great lengths, using multiple phone numbers and social media accounts to pursue the players. She even fabricated claims of being pregnant by Gilmour, despite no sexual involvement between them.
Gilmour testified in Westminster Magistrates Court, revealing that Sloan's stalking campaign affected his performance on the field. He struggled to sleep and worried about the negative impact she was having on his relationships with friends and family.
Last month, Sloan pleaded guilty to charges of stalking Gilmour with fear of violence or distress, stalking England midfielder Mount, and harassing Chilwell. The sentencing hearing for Sloan will take place in Westminster Magistrates Court on Tuesday afternoon.
In May, Prosecutor Jason Seetal informed the court that Sloan encountered the players, who were all members of Chelsea at the time, at a house party hosted by Chilwell in November 2020.
"Following that, Mr Mount and Ms Sloan slept together once", he said. "There was communication between them for around six months and Mr Mount decided that the relationship wasn't going to progress any more.
"He decided to end contact with Ms Sloan."
Mr. Seetal stated that Mount experienced a "bombardment of messages" from Sloan, disregarding his requests to stop contact. She went on to create at least 21 different phone numbers to continue pursuing him.
The court heard Sloan sent the star a picture of herself buying a new phone number, along with the caption "I'm not buying food any more so I can get more numbers – I will be faster than you."
"Some of the messages are apologetic, saying 'I really wanted to say sorry to you, talk to me and let me know how you feel'", said the prosecutor.
But he said Sloan then revealed her alter ego, telling Mount it is "a character called 'devil baby'", and adding: "You and Ben (Chilwell) will be destroyed".
"Beware of devil baby Mason, I can morph in a second", she wrote.
During the court proceedings, it was revealed that Sloan had created an Instagram account under the username "devilbaby_10." Through this account, she labeled Mount as a "criminal" and posted collages of him with other women. Additionally, she made attempts to reach out to his colleagues, friends, and family members.
"He was concerned she had an obsession or fixation with him and didn't know what she could be capable of", added Mr Seetal.
According to the court proceedings, it was revealed that Sloan not only posted collages of Chilwell but also attempted to contact him. Additionally, she made a false claim about his sexuality online.
Gilmour, the Scottish international, shared with the court that he had moved from Chelsea to Brighton in the summer of 2022. During this time, while being in an unfamiliar environment and away from his loved ones, he found himself bombarded with messages from Sloan.
Although Gilmour had initially exchanged messages with her after meeting at the house party, he later attempted to sever ties. However, Sloan persisted in stalking him during the summer of 2022, making false claims online about being pregnant with the footballer's child.
"Mr Gilmour has never been in an intimate relationship with Ms Sloan", said Mr Seetal.
Outlining the impact of her behaviour, Gilmour said in a statement: "I was not able to sleep and had to take sleeping tablets on occasions.
"It had a knock-on effect on my performance", adding that he was left "extremely stressed" and struck by "feelings of panic".
"For a period of time I was consistently receiving notifications of messages from Orla, or contacted by people she was harassing.
"I was worried not only for myself but also those targeted by Orla."
Gilmour revealed that he had taken the step of severing contact with both his friends and female acquaintances on social media in order to safeguard them from Sloan's actions.
Sloan, who resided in Westminster, central London, but provided a court address in Exeter, has been on bail since admitting her guilt.
During the previous hearing, District Judge Neeta Minhas cautioned Sloan that the case could be transferred to the crown court, where she might face imprisonment as a potential consequence.
"The starting point for one offence crosses the custody threshold, and it was targeting of three different people", she said.
Sloan acknowledged her involvement in stalking Mount from June to October 2022, harassing Chilwell in late October 2022, and stalking Gilmour from September 10 to October 28, 2022.