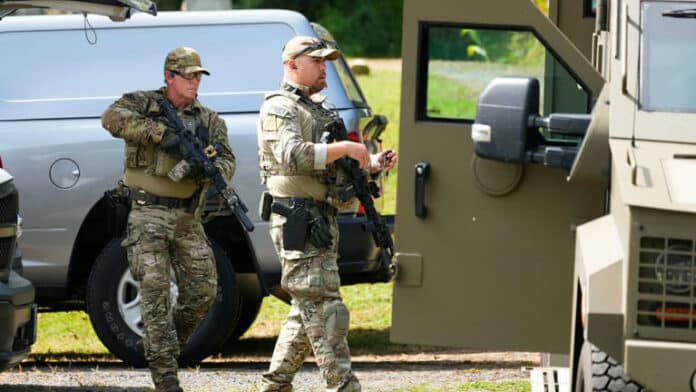 A murderer who had been convicted escaped from prison by utilizing a unique "crab-walking" technique over the prison walls has been apprehended following an extensive two-week-long search.
On August 31st, Danelo Cavalcante successfully escaped from Chester County Prison in Pennsylvania. Surveillance footage captured the 34-year-old using an unconventional method to evade capture.
He stretched himself between two parallel walls in the prison's recreation yard, allowing him to scale them. Cavalcante then navigated over razor wire and traversed a rooftop, managing to elude detection by a prison guard stationed in a rooftop watchtower, thus completing his daring escape.
Cavalcante's escape remained unnoticed for over an hour until prison guards conducted a head count. Subsequently, a massive manhunt was launched, involving hundreds of state and local police officers, as well as federal agents, all dedicated to locating him.
However, on Wednesday, a reliable law enforcement source confirmed to NBC News that they had successfully apprehended the convicted murderer.
"I'm proud to announce the subject is in custody. Repeating, subject is in custody," a Chester County official announced in a broadcast radio call on Wednesday morning.
His capture occurred just a day after law enforcement authorities established a heavily fortified perimeter in response to reported sightings of Cavalcante in the South Coventry Township area on Monday evening.
On August 16, Cavalcante was convicted of the murder of a 33-year-old former girlfriend and subsequently received a life sentence without the possibility of parole for the stabbing.
Additionally, Cavalcante faces charges in his native Brazil, where he is accused of "double qualified homicide" in connection with the 2017 killing of Valter Junior Moreira dos Reis in the municipality of Figueiropolis.
This incident allegedly stemmed from a debt that the victim owed him for repairing a vehicle.
Cavalcante had been incarcerated in Chester County Prison while awaiting transfer to a state prison to serve his life sentence.
A county spokesperson revealed that an 18-year veteran guard, who failed to notice Cavalcante's escape, has been terminated from their position. The guard, who remains unidentified, was found to be in possession of a cell phone while on duty in the tower, a breach of Chester County Prison policy, as reported by the county representative.