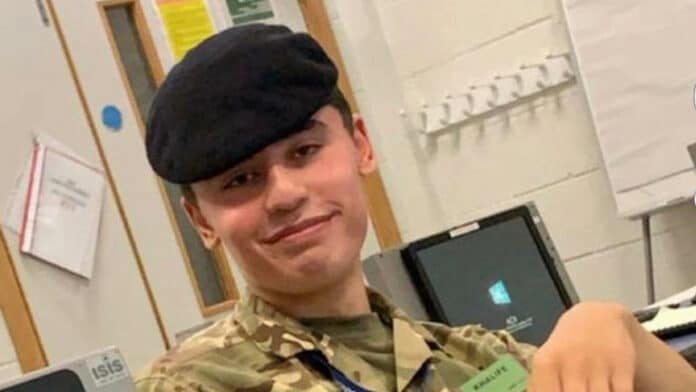 Daniel Khalife has made a court appearance after being charged with escaping from Wandsworth prison.
The 21-year-old individual suspected of involvement in terrorism reportedly escaped on Wednesday but was apprehended in a London suburb on Saturday, culminating in a 75-hour pursuit. Formerly a soldier, he was allegedly employed in the prison kitchen and vanished while dressed in a chef's attire.
He stood before the bench in Westminster Magistrates' Court, facing charges of escaping from lawful custody at HMP Wandsworth on September 6th.
Khalife, donned in a grey prison-issued tracksuit, was surrounded by a security officer and two uniformed police officers, while three additional plain-clothes officers occupied the court's well.
Khalife, a former Royal Signals member previously stationed at Beacon Barracks in Stafford, verified his name and date of birth when prompted but was not required to enter a plea for the charge.
No request for bail was made, and deputy chief magistrate Tan Ikram ordered him to remain in custody until his forthcoming court appearance as part of the "terrorism list" at the Old Bailey scheduled for September 29.
Khalife had been in custody at HMP Wandsworth awaiting trial. He faced accusations of placing fake explosive devices at a military facility, a charge under the Terrorism Act, as well as another charge under the Official Secrets Act, which alleged that he engaged in "an act prejudicial to the safety or interests of the state."
In May, he was discharged from the army, and he previously appeared at the Old Bailey via video link in July, where he denied the charges levied against him.