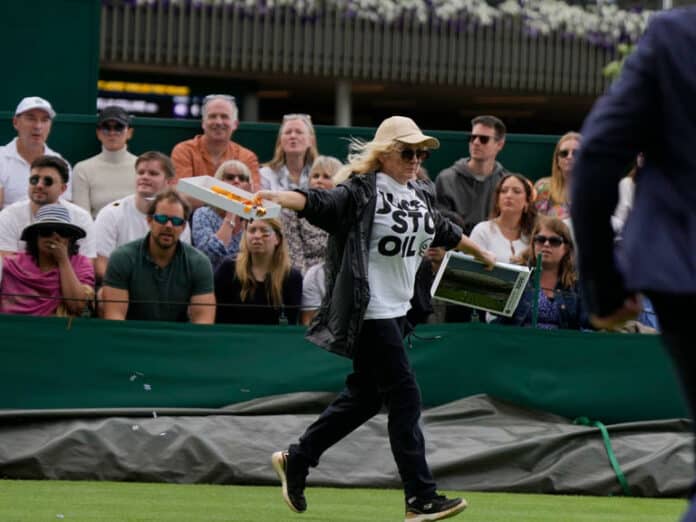 During a match between Grigor Dimitrov and Sho Shimabukuro at Wimbledon, play on Court 18 was disrupted by environmental protesters affiliated with the Just Stop Oil group.
In an act of demonstration, two protesters boldly entered the court and proceeded to scatter orange-coloured confetti and place a jigsaw puzzle on the grass. To further assert their message, one activist took a seat right on the court itself.
In a statement, Just Stop Oil said: "We can't leave it to the next generation to pick up the pieces."
Deborah Wilde, 68, a retired teacher from London, who was one of the protesters who ran on the court shortly after 2.10pm, said: "I'm just an ordinary grandmother in resistance to this government's policy of serving us new oil and gas licences. In normal circumstances this sort of disruption would be entirely unacceptable, but these aren't normal circumstances.
"We've just had the hottest June on record, breaking the previous record by nearly a whole degree! We don't need Hawk-eye to see that our government issuing over 100 new fossil fuel licences is a very bad line-call.
"Forget strawberries and cream – scientists are warning of impending food shortages, mass displacement and war.
"We are facing new pandemics, economic inflation and increasingly authoritarian governments who will attempt to crush civil unrest.
"This is a crisis and it needs a crisis response. I want a safe future, not just for my grandchildren but for all children around the world and the generations to come."
Simon Milner-Edwards, a 66-year-old retired musician from Manchester, was among the Just Stop Oil protesters who invaded the court. Despite his retirement, Milner-Edwards passionately joined the demonstration, symbolizing a diverse range of individuals united in their cause.
He said: "I'm here for my grandchildren and everybody else's. I'm not prepared to let our politicians wreck everything and leave the next generation to pick up the pieces.
"The last thing I want to do is spoil people's enjoyment of Wimbledon, but right now, on Centre Court, it's humanity versus oil and gas – and the umpire is getting every call wrong.
"How long are we going to take this before we see a McEnroe-level meltdown?"