Chief Meteorologist Jeff Lyons has seen his ratings soar since he started working from home amidst the coronavirus pandemic thanks to his beloved cat Betty.
In line with current social distancing rules, the meteorologist has set up a studio in his own living room, but working from home is not without its challenges as he soon found out!
Lyons said: "Working from home has been an adventure. I have my studio and green screen set up in the dining room. It's nice to have a 30-second commute after the late news."
However, he went on to reveal how his cat Betty made an unexpected appearance one day during a life broadcast, saying: "Betty was under the table during one weathercast, and the director asked to see her, so I held her up for the camera. We just had the final 30-second weather to do, so I kept her in my arms just for fun… little did I know."
Possible severe storms Sunday afternoon/evening across Tri-State. Strong winds and heavy rainfall likely. #tristatewx #inwx #ilwx #kywx pic.twitter.com/tgJq0HIn0d

— Jeff Lyons (@Jeff14News) April 11, 2020
Since Betty the cat first appeared on the show earlier this month, more and more people have been tuning in to watch Lyons' weather forecasts, with viewers from all over the world enjoying his feline friend's contribution to the broadcasts.
The public response has stunned the meteorologist, who said: "The outpouring for this silly cat has been crazy. I've spent 34 years in local TV as a meteorologist, so I am used to being known around this area, but this is something that has really thrown me."
Betty's skyrocketing popularity even inspired the station to create an official "Betty the Weather Cat" tracker, which found that episodes featuring the cat had been viewed in almost every state in the US, as well as in England, Spain, and Australia.
In a recent post on Facebook, Lyons wrote: "WC Fields famously said: "Never work with kids or animals." I should heed that advice, but I think I've been replaced. Maybe the better quote is "Claim victory and depart the field."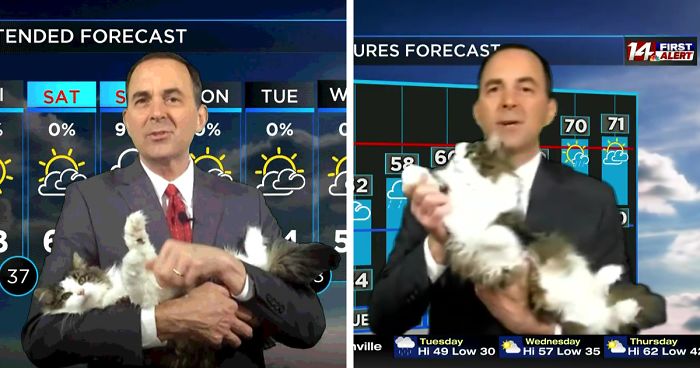 Although Lyons reports on local weather, this has not put off those who live further afield, with some regular viewers admitting they don't even know where Lyons is based.
One user said: "I didn't even need to see the weather since I live in Guatemala, but you've won my attention and my heart."
Fortunately, the weatherman has come to terms with the fact that he is now being upstaged by a cat, saying in a recent broadcast: "You're tuning in to watch the cat, I realise that, but it's going to be cold tonight."
Lyons has revealed his family adopted Betty around 11 years ago when she simply started showing up on their windowsill every day, saying: "My daughter, who was around 10 at the time, begged to keep her. I had always had cats growing up, so it was an easy sell, I'm a softie."
In response to Lyons regular broadcasts featuring his beloved cat, he recently held a live Q&A session with Betty on his Facebook page, where fans were given the opportunity to find out more about their favourite feline forecaster.
The live video racked up 52k views, 2.7k likes, and over 1.5k comments with people eager to know more about Betty's personality and daily routine.
One user commented, saying: "This is the wholesome content the world really needs right now. You and your cat, sir, are definitely essential workers."
Fans have now taken to posting pictures of themselves in isolation with their own cats on Lyons Facebook page, detailing how their pets are keeping their spirits up during these unprecedented times.
Before the lockdown in the UK, Battersea Dogs and Cats Home in London saw a massive surge in interest in people wanting to rehome an animal, with the week beginning Monday 16 March, resulting in the rehoming of 86 dogs and 69 cats.
The Dog's Trust has also revealed that they received "an overwhelming number of inquiries," not only to rehome dogs but also to foster temporarily.
In response, they have said: "Dog ownership is a wonderful thing, but it is a lifelong commitment which must be carefully considered. As our saying goes, 'a dog is for life' and, in this case, not just for isolation."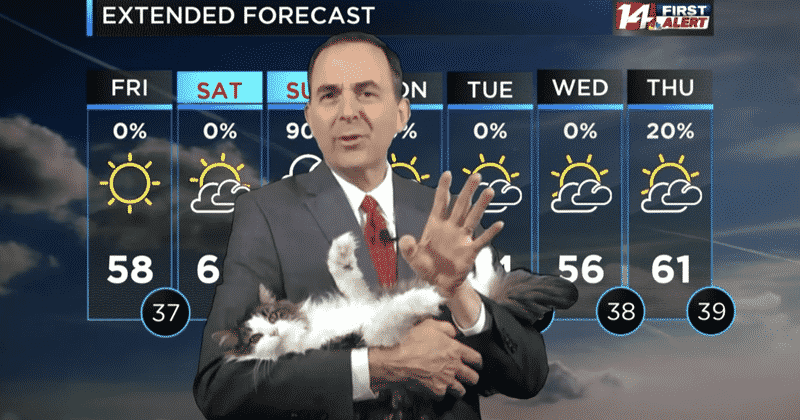 Joanne Wright, from vet charity PDSA, explained the role that a pet can play during difficult periods such as these, saying: "One great thing about owning a pet is that they can offer unconditional love and friendship, which is more important than ever through these challenging and uncertain times. What's even better is that many of our animals, who may otherwise be left alone for extended periods of time, will also be able to enjoy lots of company and fuss at home."
Although there have been some concerns about whether or not pets can catch COVID-19 and also if owners can catch the virus from their pets, the World Health Organisation said on 13 March:
"At the present time, there is no evidence that companion animals/pets such as dogs or cats can be infected with the new coronavirus. Therefore, there is no justification in taking measures against companion animals, which may compromise their welfare."
Animal charities across the country are urging people not to abandon their pets, but to instead, focus on maintaining good hygiene practices while looking after their pets.