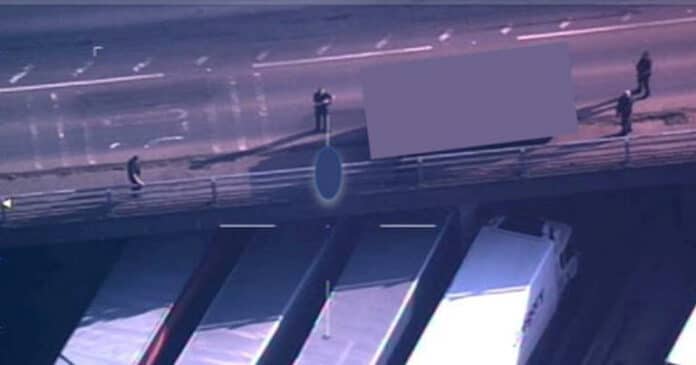 A 41-year-old man was taken into custody following an incident in which a military truck breached a police roadblock. Law enforcement officers responded to a report of threats made by the man against a resident of an address in Norton Fitzwarren, near Taunton, on Sunday at 4:40 pm.
Upon their arrival, the individual fled the mentioned address in a privately-owned truck, subsequently colliding with two police vehicles. Thankfully, no injuries were reported, according to the police.
The man has been apprehended and is currently under police custody.
Avon and Somerset Police have reported that a total of nine vehicles were damaged during this incident, including four police cars. Following the breach of the roadblock, which resulted in significant damage to the police vehicles, the truck also collided with a parked car and a signpost.
Subsequently, the individual proceeded to drive to the A361 bridge over the M5 in Somerset, approximately six miles from the initial scene, where he abandoned the vehicle.
An Avon and Somerset Police spokesperson said: 'A 41-year-old man has been arrested following a series of incidents in the Taunton area this afternoon (Sunday 10 September).
'Officers were deployed to an address in Norton Fitzwarren at around 4.40pm following a report a man was making threats to the occupant and had caused damage to the property.
'The man left the address in a large military truck when officers arrived before driving the vehicle into two police cars blocking the road, causing them extensive damage.
'Thankfully, no police officers or members of the public were hurt in the incident.
'The man subsequently drove to the A361 M5 overbridge where he exited the vehicle and climbed over the railings, leading the motorway to be closed in both directions. The man was arrested 25 minutes later and he currently remains in police custody.'