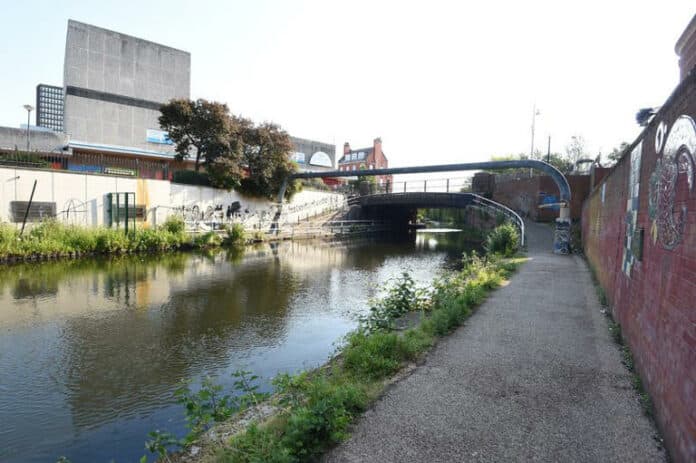 On the hottest day of the year, a heartbreaking incident unfolded as a 16-year-old boy tragically lost his life in the Leeds-Liverpool Canal in Burnley, Lancashire.
The unnamed teenager was retrieved from the canal late last night, prompting a police investigation. At 4:20 PM on Saturday afternoon, emergency services were summoned, igniting an intense search effort.
Sadly, the search concluded when the young boy's lifeless body was found in the water shortly before 7:20 PM.
Police today confirmed he had entered the water near Empire Way in the town. A force spokesman said: "A 16-year-old boy was pronounced deceased at the scene and our thoughts are with his family and loved ones at this distressing time. Our inquiries are continuing."
On Sunday, the United Kingdom experienced an extraordinary meteorological phenomenon as the Met Office confirmed a record-breaking seventh consecutive day of scorching 30°C heat.
This unrelenting heatwave in September marks the longest of its kind ever recorded. Notably, Saturday was officially declared the hottest day of the year, with temperatures soaring to 32.7°C at Heathrow Airport.
Sunday marked an extraordinary milestone in the UK, as it marked the seventh consecutive day of sweltering 30-degree weather, with Cambridge recording a high of 32.5°C.
To address the concerning heatwave, the UK Health Security Agency issued an amber heat-health warning, covering nearly every region of England, effective until 9 pm tonight. This heatwave surpassed the previous record set on Thursday when Wisley in Surrey registered a scorching 32.6°C.
In the previous year, England and Wales witnessed a troubling trend, with an estimated 3,271 excess deaths occurring during the summer heatwaves.
These heatwaves saw temperatures reach a record-breaking 40°C for the first time since historical records began, as revealed by analysis. Additionally, the sweltering conditions led to a tragic toll, with at least a dozen individuals losing their lives in July 2022 due to drowning incidents while attempting to cool off in open water.
UKHSA chief scientific officer Isabel Oliver previously said: "These estimates show clearly that high temperatures can lead to premature death for those who are vulnerable. Higher excess deaths occurred during the hottest days this year and a warming climate means we must adapt to living safely with hotter summers in the future.
"Prolonged periods of hot weather are a particular risk for elderly people, those with heart and lung conditions or people who are unable to keep themselves cool such as people with learning disabilities and Alzheimer's disease."