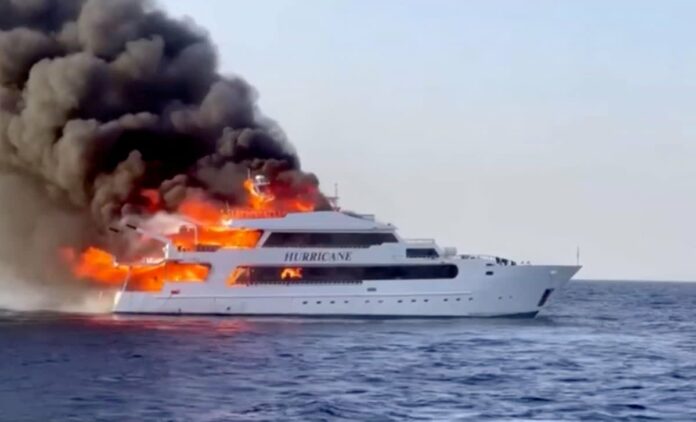 According to the tour operator, it has been confirmed that three British scuba divers who went missing after their tourist boat burst into flames in Egypt have tragically passed away.
It is believed that the three individuals had made the decision not to partake in the dive from the vessel named "Hurricane" prior to the outbreak of fire, which occurred off the coast of Marsa Alam at 8:30 am on Sunday.
As stated, the remaining 12 divers were receiving a scuba briefing on the deck and were promptly evacuated to a nearby craft as soon as the fire erupted.
Following their efforts to locate the missing guests, the 14 crew members on board were compelled to abandon the ship as well.
On Monday, a spokesperson for Scuba Travel expressed profound sadness and regret, stating:
"It is with great regret that we, as tour operator, with heavy hearts, must accept that three of our much-valued dive guests, perished in the tragic incident.
"Our sincere and heartfelt condolences go out to their families and friends at this very sad time."
According to the travel company, the three victims were part of a group of 15 experienced diving enthusiasts who were enjoying a week-long stay.
They added: "At the time the fire broke out, 12 divers were participating in a briefing on board, while those missing had apparently decided not to dive that morning.
"The severity of the fire meant that the 12 divers were immediately evacuated by rib to another craft nearby and the 14 crew members, including the Captain and two dive guides, having tried to reach the missing guests, also had to abandon ship and were rescued by rib."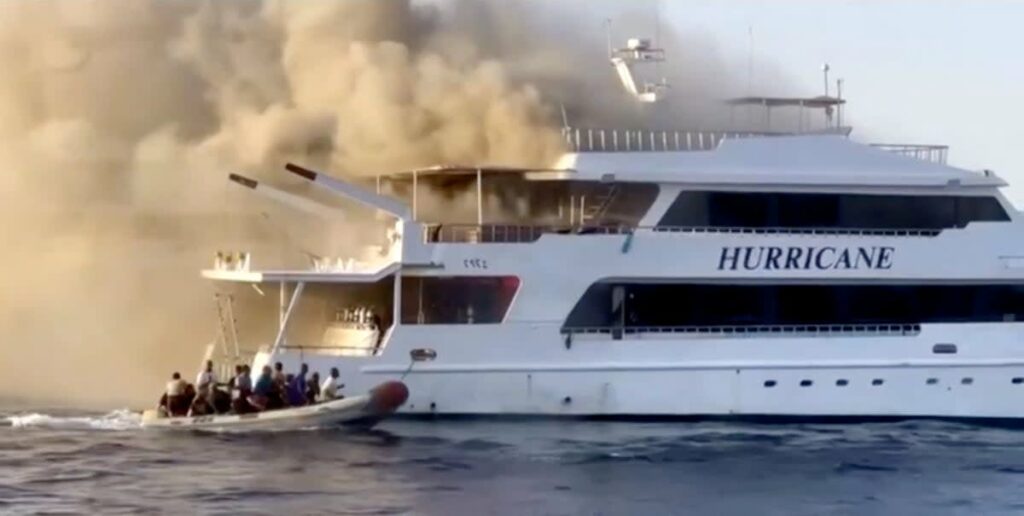 In a chilling video, the ship is captured engulfed in flames, accompanied by voluminous clouds of black smoke rising into the sky.
As per a statement from the Red Sea State governor's office, the fire resulted from an electrical short circuit on the boat, which had been on a voyage since June 6 in an area situated just north of Marsa Alam.
The vessel named "Hurricane" is presently being towed to a yet-to-be-determined port, as it is still emitting smoke and requires time to cool down before it can be brought ashore.
Reports indicate that the seven-night excursion carried a price tag of approximately £1,500, and the ship was originally scheduled to return to the dock on Sunday.
The Foreign Office is providing assistance and support to the British nationals affected by this incident.
The travel company added: "Scuba Travel wish to thank the Foreign and Commonwealth Department and Consular Office in Cairo for doing all possible to expedite emergency travel documents for the guests wishing to travel back to the UK, something which they hope to achieve early in the coming week."