Today marks the third anniversary of the tragic Manchester Arena attack, and this week singer Ariana Grande took to Instagram to share a moving tribute with the world.
It's been three years since the horrific events at Ariana Grande's concert at the Manchester Arena, and the terror attack killed 22 people and left 139 injured. Many people have shared their commemorations on social media today. Singer Ariana Grande also said in an Instagram post this week, "I want to take a moment to acknowledge and send my love to everyone that is feeling the sadness and tremendous heaviness of the anniversary coming up this week."
She added that she would be thinking of everyone and that not a day goes by that it doesn't affect 'you and all of us.'
The Daily Mail reported that Ariana's manager Scooter Braun said the singer is still suffering after the event and that she has Post Traumatic Stress Disorder (PTSD). The singer and her manager visited families at the Royal Manchester Children's hospital after the attack and said in an interview with British Vogue in 2018 that it was difficult to talk about it because so many people had suffered so badly.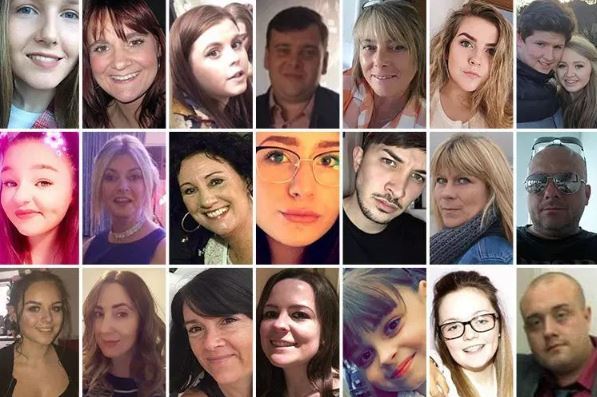 The singer also returned to the city to perform at the One Love concert with a host of other celebrities to raise money for the victims and their families. The event raised more than £17 million.
Kier Starmer, Labour's new leader, also marked the anniversary and tweeted, "We remember all those who lost their lives and the families, friends and communities shaken to their core."
Many other political figures have shared messages alongside members of the public and organisations.
There will also be a one-minute silence at 2 pm today, and Labour MP Dawn Butler also added it is the 7th anniversary since the murder of Lee Rigby.
Thor's promise to Manchester Arena bomb survivor
Martin Hibbert, a survivor of the Manchester Arena bombings, recently received a boost of celebrity motivation from Hollywood star Chris Hemsworth. The Metro reported that after meeting the actor in Australia while having specialist treatment, the actor said to Mr. Hibbert, if he's walking in 2021, "we will walk down the red carpet at Thor 4 in London."
The 42-year-old who was picking up his daughter from the concert when the attack happened explained that he remembers all of it, and said he was awake for almost all of the experience. He survived with 22 shrapnel injuries, and his daughter also made it out that day.
Martyn's Law
Since the attack three years ago, there has been a call for tighter controls and security at public venues. Earlier this year, a new law is being rolled out to ensure sites have a counter-terrorism plan in place. Martyn's law is named after Martyn Hett, who died tragically in the bombing.
The bomber that day, Salman Abedi, died in the explosion. However, his brother Hashem Abedi was found guilty of conspiring to help him carry out the arena attack.